Cartoons Matching games - Online and free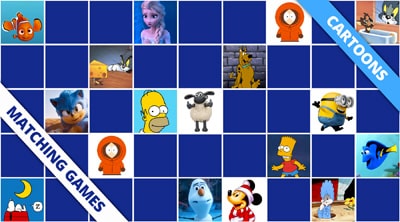 Many matching games where Cartoon characters have been choosed from among children's favourites. Kids will play with Scooby-Doo, The Coyote and the road runner, South Park, the Simpsons, Tom and Jerry, and many other cartoon characters...
These games are responsive, indeed they are compatible with all devices: desktop, tablets and smartphones. The content and the games adjust automatically to your device, so do not hesitate to play the game on a tablet or a smartphone.
Choose the matching game you prefer from the list below and have fun!


Author: Emmanuelle ROUGER / Published by Memozor


Choose a Matching Game