Giant or big Memory Matching games - Online and Free (19)
Author:

Emmanuelle ROUGER
/
Published by

Memozor



Published on 09 August 2015 /
Last modified on 01 May 2020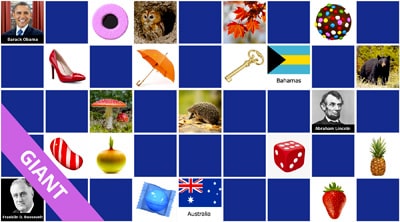 Find here a large range of big or giant memory matching games, online and free games! All these games are called "giant" or "big" because of their large number of cards, more than 50! They are great games to train your memory. Are you ready for the challenge of winning each game in less than 5 minutes?

These games are responsive, indeed they are compatible with all devices: desktop, tablets and smartphones. The content and the games adjust automatically to your device, so do not hesitate to play the game on your tablet or your smartphone!


Choose a big Memory Matching game
New Memory Matching games
NEW !
How to play online big memory games
All the big memory games contain obviously many cards. The cards are arranged in 9 columns and 6 rows for a total of 54 cards or 27 pairs. It's a very difficult game and your memory will have to work. The purpose of the game is to reconstruct the pairs of cards by turning them 2 by 2. If the cards turned face up are the same (a pair) you win and the pair disappears from the game otherwise the cards are automatically turned face down and you need to make a new try.


Quickly understand how to play memory game with the Quick memory game rules here, you will find a step by step description with illustrations, or you can also Download the Printable game rules in PDF format


Every time you start a new game, a random selection of the cards ensures a different game, so you can replay endlessly.



Why play big memory games
There is a large number of cards in the big memory games so it's a great exercise to train your memory. By playing regularly, you'll be surprised how these exercises improve you memory. This is a very good method to boost your visual memory in a playful way.
All giant memory games on Memozor are completely free and unlimited, so you can train your memory, or just play as many times as you like!