Matching games for toddlers - Online and Free (19)
Author:

Emmanuelle ROUGER
/
Published by

Memozor



Published on September 22, 2011 /
Last modified on August 07, 2022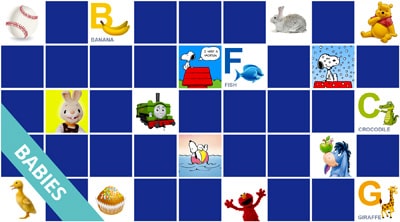 Find here a Large range of Matching games for toddlers. These games are specially designed for young kids with simple pictures.
On the cards, your child will discover familiar items, pretty pets, stuffed animals, cartoon heroes and many others! He could even learn the letters of the alphabet.

Moreover, thanks to the 2-player mode, you can play with your child and have a nice time with him.
Advice : If your child is too young, he probably doesn't know how to handle the mouse, so we recommend that he plays the game on a tablet or smartphone, it will be easier for him!


Choose a Matching Game for Toddlers
How to play our online Matching games?
There are few cards in these matching games, they are suitable for toodlers. The cards are arranged in 4 columns and 3 rows (depending on which game is played) for a total of 12 cards or 6 pairs. You can increase the number of cards, and therefore the difficulty, thanks to the buttons located below the game.

Your child have to make pairs of cards by turning them 2 by 2. If the cards turned face up are the same (a pair), he wins and the pair disappears from the game, otherwise the cards are automatically turned face down and he has to make a new try. The purpose of this memory game is to find all the pairs in the least moves and in a shortest time.

These matching games are perfect games for kids who start using the mouse. But if your child is too young, he probably doesn't know how to handle the mouse, so we recommend that he plays on a tablet, it will be easier for him!
If you wish, you can choose the "2 player mode" so you can play with your toddler. If your child does not like to play alone, he also have the possibility to play against the computer (in Easy mode).


Quickly understand how to play with the Quick Matching game rules here, you will find a step by step description with illustrations, or you can also Download the Printable game rules in PDF format.


These games are responsive, indeed they are compatible with all devices: desktop, tablets and smartphones. The content and the games adjust automatically to your device, so the toddler can play wherever he is.


Why play memory Matching games for toddlers?
These Matching games are specifically designed for toddlers. Many themes are available, the pictures chosen to illustrate the cards of the games are suitable for young kids, there are simple pictures such as familiar items, pluffed animals, simple colors, their favorite cartoon heroes...

These game are great games to stimulate toodlers's memory in a playful way! Observe how your child memorize the locations of the different cards, he will surprise you!


Every time you start a new game, a random selection of the cards ensures a different game, so children can replay endlessly!
On Memozor, all Memory or Matching games are free and unlimited, so they can play as many games as they want.