Free memory games online for adults (40)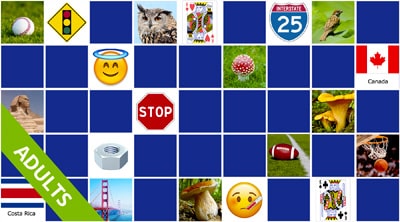 Find here many and free memory games online for adults. Perfect games for training your memory, several levels of difficulty, so come and play!

You want to play to memory and you do not have a real game at home? no problem! these online games are made for you! You will find below, a complete list of memory games suitable for adults. Here, you have a wide range of games, impossible to be bored! The cards can be pictures, photographs, people, objects, flags, letters, numbers, and many more ...
You can change choose the level of difficulty by increasing the number of cards on the board, thanks to the buttons located below the game.
Choose the memory game you want to play, and click its thumbnail or its title to access game page, and then it's up to you! Enjoy!

These games are responsive, indeed they are compatible with all devices: desktop, tablets and smartphones. The content and the games adjust automatically to your device, so do not hesitate to play the game on a tablet or a smartphone.
Choose the game you prefer from the list below and have fun!


Choose a memory game for adults :