Free printable memory games (42)
Author:

Emmanuelle ROUGER
/
Published by

Memozor



Published on 16 February 2012 /
Last modified on 01 May 2020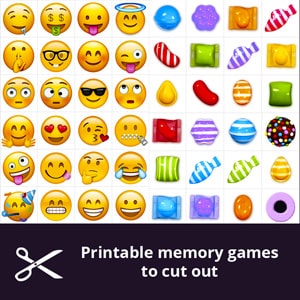 Find here a large range of printable memory games, free games! There are memory games for toddlers, for kids, for adults or printable memory games for seniors.


So, choose the printable memory you prefer from the list below and just click on the button "print" to print the memory cards.

Once cards games has been printed out, you only have to cut he cards following the outline. Before cutting the printed page, you can optionally glue it on a cardboard support. In this way, the cards will be more rigid and thus they will be stronger. Then, start playing and enjoy! All these printable memory games are free.


New printable Memory games
NEW !