Free memory games online for seniors (24)
Author:

Emmanuelle ROUGER
/
Published by

Memozor



Published on 22 September 2011 /
Last modified on 01 May 2020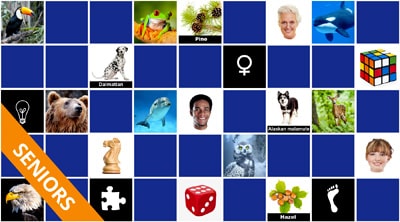 Find here many and free memory games online for seniors. Perfect games for training the elderly memory, several levels of difficulty, so come and play!

You will find below, a complete list of memory games suitable for seniors. Here, you have a large range of games, impossible to be bored! The cards can be pictures, photographs, people, flowers, letters, animals, and many more...

You can change choose the level of difficulty by increasing the number of cards on the board, thanks to the buttons located below the game. These games are responsive, indeed they are compatible with all devices: desktop, tablets and smartphones. The content and the games adjust automatically to your device, so do not hesitate to play the game on a tablet or a smartphone. Choose the memory game you want to play, and click its thumbnail or its title to access game page, and then it's up to you! Enjoy!


Choose a Memory game for seniors
Why play memory games for seniors?
These online memory games are specifically designed for seniors to enable them to train their memory while having fun, many themes and difficulty levels are available. The pictures chosen to illustrate the games are suitable for elderly.


These memory games are great games to train and boost the memory in a playful way!


How to play or online memory games?
In this free games, the cards are arranged in columns and rows. You can change the number of cards on the board, and so the level of difficulty, thanks to the buttons located below the game.

You have to reconstruct the pairs of cards by turning them 2 by 2. If the cards turned face up are the same (a pair) you win and the pair disappears from the game otherwise the cards are automatically turned face down and you need to make a new try. Find all the pairs in the least moves and in a shortest time.


Quickly understand how to play memory game with the Quick memory game rules here, you will find a step by step description with illustrations, or you can also Download the Printable game rules in PDF format


You can replay the same game as many times as you want: every time you start a new game, a random selection of the cards ensures a different game, so you can replay endlessly. All the online memory games for elderly you will find on this website are free, of course!


All memory games for seniors on this website are completely free and unlimited, so you can train your memory, or just play as many times as you like.