Matching games for seniors - Online and Free (26)
Author:

Emmanuelle ROUGER
/
Published by

Memozor



Published on September 22, 2011 /
Last modified on August 07, 2022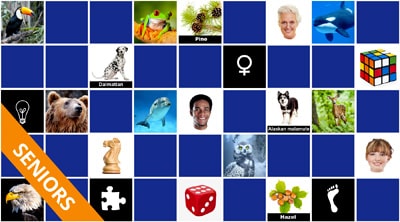 Find here many free and Online Matching games for seniors. Perfect for training your memory in a playful way!

You want to play a Matching game but you do not have the famous board game at home? No problem! These games are made for you! You will find below, a Large range of matching games specially designed for seniors, impossible to be bored! The cards can be pictures, photos, animals, faces, flowers, green plants and many more...

You can play Alone or against the Computer. You can choose the Level of difficulty by increasing or decreasing the number of cards displayed thanks to the buttons located below the game. These matching games are compatible with all your devices: desktop, tablets and smartphones. So you can play wherever you are!


Choose a Matching Game for Seniors
How to play our online memory Matching games?
In this free games, the cards are arranged in columns and rows. You can change the number of cards on the board, and so the level of difficulty, thanks to the buttons located below the game.
For teachers who want to play matching games with their students or for all those who want to play together and remotely via screen sharing, a new feature is now available for each game: you now have the possibility to display numbered cards.
The principle of the game is to find all the pairs by returning the cards 2 by 2. If the cards turned up are the same (a pair), it's a match and you win the pair, otherwise, the cards are automatically turned face down and you have to make a new try.
In the "SOLO" mode: The principle is to find all the pairs with the fewest possible moves and in a shortest time.
In the "2 PLAYERS" mode: the player who found the most pairs wins.


Quickly understand how to play matching games with the Quick memory game rules here, you will find a step by step description with illustrations, or you can also Download the Printable game rules in PDF format


These matching games are compatible with all your devices: desktop, tablets and smartphones (IOS ou Android).The content and the game adjust automatically to your device, so do not hesitate to play on a tablet or a smartphone.


Many free Matching games for seniors on Memozor
We offer the seniors a wide range of free Matching games to ensure that everyone can find themes that please him, to match their tastes, according to his desires, according to his passions or based on his interests.
For nature lovers, there are the Matching game with dog breeds, leaves of trees, flowers, birds, marine or tropical animals. There is even a game with very strange and rare animals. Tn some games, the name associated with the picture is written on the card, to learning while having fun!
There are also Matching games with pairs of objects to find, such as the Matching game with vintage objects or board games objects.
Another very interesting game for seniors is the faces memory game with a very large number of faces of different people.


Every time you start a new game, a random selection and a random positioning of the cards ensure you a different game than the previous one, so you can play again and again! On Memozor, all Matching games for seniors are free and unlimited, so you can play as many games as you want.


The Matching game is an excellent memory game for seniors
These free memory games are specifically designed for seniors. Indeed, we offer you several levels of difficulty, so you can choose the one which is the most adapted to your memory, we advise you to start with the easiest level, then you can gradually increase the level according to your results. Thanks to the wide choice of themes, we hope you will find what you are looking for.


The Matching game is an excellent game to stimulate the seniors memory in a playful way! The more you play, the more you train your memory, ideal to keep fit your neurons!


If you want more difficult Matching games (with a larger number of cards), you will find here our Giant or Big Matching games.