Free Printable memory games (27)
Author:

Emmanuelle ROUGER
/
Published by

Memozor



Published on November 06, 2020 /
Last modified on November 06, 2020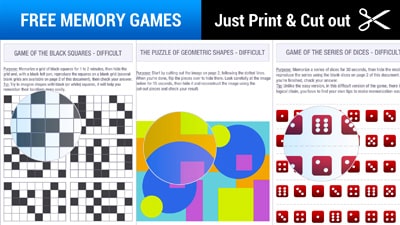 We offer you a wide range of free printable memory games for young and old because there is no age limit to have fun! These games are especially interesting for seniors who want to train and stimulate their memory in a playful way. You will find several types of games, some are easy and others more difficult, there is something for all tastes! You can play alone, with family or friends.
We have classified them into 6 categories of games:
Memory games

with Words

(or letters)
Memory games

with Numbers

Memory games

with Squares

(coloured or black and white squares)
Memory games

with Pictures

Memory games

with Faces

Memory games

to easily learn the Multiplication Tables
Choose the game or category you prefer from the list below, then download and print the game and go!
Choose a Printable Memory Game