Printable Vegetables Cards with names and pictures
Print the 100 pictures of Vegetables with their names
Printable list of Vegetables with names and pictures
Here is a very complete list of vegetables with 100 different vegetables listed alphabetically. On each card there is a pretty picture of the vegetable and its name. You will find very common vegetables such as lettuce, zucchini, eggplant, cauliflower, cucumber, potato... but also less known and less commonly consumed vegetables such as okra, green mustard, pattypan squash, rhubarb, Jerusalem artichoke or rutabaga. You will find in the list the tomato but, although it is considered a vegetable, know that actually the tomato is a fruit.
To print the PDF, click on the button below. You can also view the Vegetable List below.


PRINT THE 100 VEGETABLES (PDF)
Print the Vegetables for Kids (simplified list)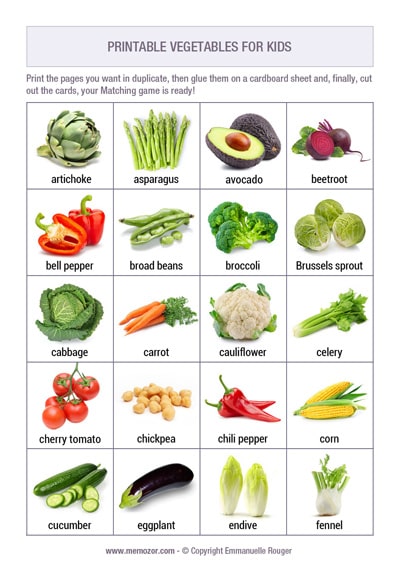 Printable pictures of vegetables
Here is a simplified list of vegetables for teaching children about vegetables, the list includes 44 of the most common vegetables. The different types of lettuce are not listed, there is only one picture to represent lettuce in general. This PDF will allow you to create a learning Matching game where children can learn the vegetables and their names as the game progresses. This is a fun way to teach kids what vegetables really look like before being cooked and ending up on their plates!


PRINT THE VEGETABLES FOR MATCHING GAME (PDF)
Cut out the Vegetables Cards and make a Matching game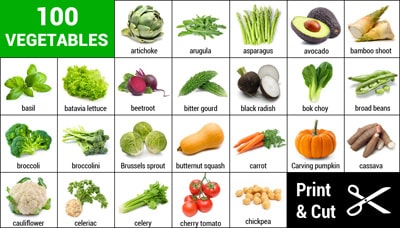 Printable vegetables Cards to cut out
After printing one of the above PDFs, you can cut out the vegetables cards to make a homemade Matching game. This game may be an opportunity to discover vegetables and learn their names.
To make the game, print out the PDF in duplicate in order to get pairs of identical cards and then cut out the vegetables. Before cutting out the printed page, you can glue it on a cardboard sheet, in this way, the cards will be more rigid and thus stronger. It also allows to avoid transparency, thus it will be impossible to guess which picture is on the hidden side.
MATCHING GAME WITH VEGETABLES - ONLINE
Find all the vegetables above in our online Matching Game. In this game you will have to memorize the location of the cards and match the pairs of identical vegetables. You can play alone or against the computer.
PLAY THE MATCHING GAME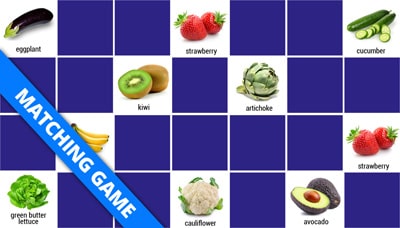 MATCHING GAME WITH FRUITS AND VEGETABLES - ONLINE
Try also our online matching game with Fruits and Vegetables. You can play alone or against the computer and choose the level of difficulty.
PLAY THE MATCHING GAME
List of vegetables with pictures and names
Here is the very complete list of vegetables, they are listed alphabetically. Feel free to click on the picture to Zoom in on the vegetable!