Free memory games to print with Numbers (4)
Author:

Emmanuelle ROUGER
/
Published by

Memozor



Published on 06 November 2020 /
Last modified on 06 November 2020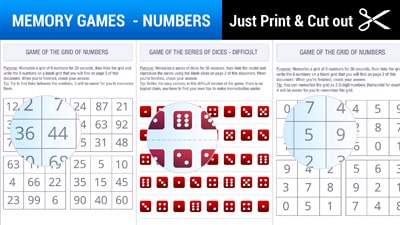 We offer you Free printable memory games with Numbers for young and old because there is no age to have fun!
Playing with numbers is a great way to stimulate and train your memory. You will find, for example, series of dices to memorize, grids of numbers... For some games, we will give you memorization tips that will help you to memorize easily the numbers.
Choose the game you like from the list below, then download and print the game and go!
Choose a Printable Memory Game