Memory games online and free | Memozor
Author:

Emmanuelle ROUGER
/
Published by

Memozor



Published on September 22, 2011 /
Last modified on November 30, 2023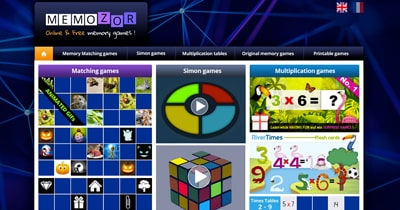 Memozor offers you a Wide range of Free Online Memory Games that are suitable for young and old. They are Great games to Train your memory or just for Fun!
Of course, you will find the famous and must-have Matching game, known as Concentration card game, with many themes for all ages! You can also play another classic memory game: the Simon Game! As well as many other unique variants of this game: Halloween, Christmas, Rubik's Cube, Animals and many more to vary your pleasures.


If you're between 8 and 12 years old, take a look at our section dedicated to Multiplication tables. You can choose a beautiful Multiplication Chart to print (many colors are available), it will brighten up your math lessons. You'll love our online Multiplication Games, which are a fun, interactive, and easy way to learn your multiplication tables without headaches! Surprises await you there ;) Discover also our Multiplication Flash Cards: A unique and efficient way using animals shaped like numbers and funny stories to easily memorize the times tables.


Don't miss our Unique memory games, created by Memozor and grouped by types: games with words, numbers, pictures, grid of squares, or series.


Our Free Printable Memory games
You want to spend less time in front of your screen? No problem, we thought of you! You will find printable games to train your memory in PDF format, such as Cards for matching game to cut out and many other Printable memory games. They are games to play at home, alone, with your family or with friends!
How to play our Online Memory games ?
Our games are compatible with all browsers (Chrome, Internet Explorer, Edge, Safari, Firefox, Opera...) and with all devices: computer, tablets, smartphones, IOS or Android. The content of the pages and the games automatically adjusts to your device, so do not hesitate to play on your tablet or smartphone, you can play wherever you are!


Some memory games have several Levels of difficulty, so if you find the game too easy or too difficult for you, do not hesitate to change the Level using the buttons below the game.


For each of our games, you will always find the instructions on the same page as the game but in some memory games, the instructions are included in the game, and are displayed as the game progresses. And finally, for the printable memory games, the instructions are included in the PDF.


If you have any questions about a game, if you want to report a bug, or for any other remark or suggestion, do not hesitate to contact Emma of Memozor via the contact form.


How to train your memory ?
The Free memory games on Memozor are Perfect games to train your memory and have a fun time! Regularly playing various games that stimulate your memory allows you to maintain it in a fun way.
To keep a good memory, it is important to make it work daily through a variety of activities.

Indeed, it has been proved that the memory must work regularly and in various ways, in order to maintain a good level. It is therefore essential for everyone to regularly stimulate his memory in everyday life. You can set up small daily and simple exercises such as :
memorizing your shopping list,
remembering the phone numbers of your loved ones,
remembering the first names of your friend's children, or the name of your favorite actors or singers
remembering the film you saw the day before on television...


There are also some very good board games to make your memory work, like Scrabble for example, or games that are played solo such as Sudoku, Puzzles, Crosswords and, of course, Memozor will help you keep your memory in top form :)