Grid of Letters of the alphabet game - online & free
Play Memory game :
NEW !
You can

change the level thanks to the buttons

below the game


Images are currently loading, please wait a few seconds
Words memory game - Grid with the letters of the alphabet to memorize: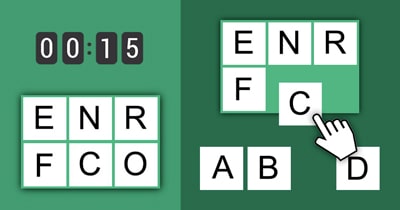 Grid with the letters of the alphabet
A great online game to train your memory of words with the letters of the alphabet. In this game, a grid with letters is displayed during few seconds, and you have to memorize it. Then you have to find the right locations of each letter on the grid by drag and drop them. Come and play!


How to play this online words memory game:
In this memory game, letters are displayed on a grid for a limited time during which the player try to memorize the location of each letter. When the chronometer stops, the letters automatically disappear from the grid and are displayed below the empty grid. The player must then find the right locations of the letters on the grid by dragging and dropping them. When the player thinks he had correctly repositioned all the letters, he can click on the "CHECK" button to see his result.
Every time the player wins, the level is automatically increased and the game becomes more difficult because the number of letters and the size of the grid increase. The purpose of the game is to finish all the levels.

Every time you start a new game, a random selection of the words and the colors of the words ensures a different game, so you can replay endlessly.

This game is compatible with all devices: desktop, tablets and smartphones. The content and the game adjust automatically to your device, so do not hesitate to play on a tablet or a smartphone.


Why play to this words memory game:
This words memory game is a working memory exercise to train your visual and short-term memory, especially your word memory, in a playful way. This game will also improve your concentration. It's an ideal game for the people who have the tip-of-the-tongue syndrome.