Matching games for 2 players - Online and Free (12)
Author:

Emmanuelle ROUGER
/
Published by

Memozor



Published on January 29, 2018 /
Last modified on August 07, 2022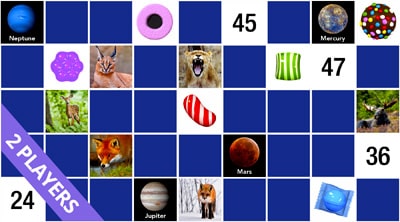 Find here many and Great Memory matching games for 2 players. You can play with a Friend sitting next to you or against the Computer, the game tells you when it's your turn. If you want a largest choice of 2-player games, Good news! On Memozor, All matching games have a "2 PLAYERS" mode, so don't hesitate to watch at our other sections of matching games to find your favorite game!
These games are compatible with all your devices: desktop, tablets and smartphones. So you can play wherever you are!


In the mode "against the computer", the More Difficult level simulate a near-perfect memory of the opponent and the Easy level simulate a poor memory and finally, the Normal level simulate an Intermediate memory. It's up to you to choose the level that suits you best.


Choose a 2-Player Matching Game

How to play our online Matching games for 2 players?
In these online matching games, you can choose between 2 type of 2-player modes:
The mode "WITH A FRIEND"

: You will play with a friend sitting next to you.

The mode "AGAINST THE COMPUTER"

: You play alone and you have to defeat the computer.


If you are playing against the computer with the "DIFFICULT" level selected, it will not be easy for you to win the game. Indeed, for the difficult level, the computer's memory being near-perfect, it will be difficult for you to beat it, make the test! :)


The object of the matching game is to find the pairs of cards by turning them over 2 by 2. If the turned over cards are the same (one pair), you win and you can play again, otherwise your turn ends (the cards are automatically turned over and hidden) and it is then the turn of the next player. When the players have found all the pairs, the game is over and the player who has found the most pairs wins the game!

.
Quickly understand how to play with the Quick matching game rules here, you will find there a step-by-step illustrated description, or you can also Download the Printable game rules in PDF format.


These matching games are compatible with all your devices: desktop, tablets and smartphones (IOS ou Android).The content and the game adjust automatically to your device, so do not hesitate to play on a tablet or a smartphone.


Why play two-players free Matching games?
These 2-player games are the perfect opportunity to have fun with a friend or family! And for a friendly moment around a real board game, you can also print one of our many Matching games in PDF format.