Memory game - List of 5 words to print for kids
Print the free memory game for kids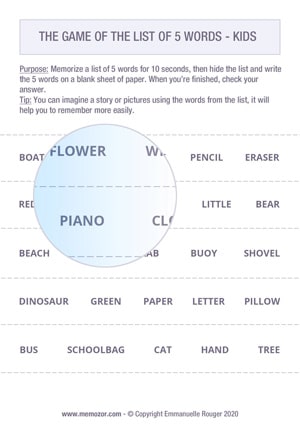 A printable memory game with lists of 5 words to memorize. The words are simple for a child-friendly game.
Click on the button below to download the word lists in Pdf format and then print them.
You will find the detailed purpose of this game in the document or at the bottom of this page.


Print the game
(PDF format)
Purpose of this memory game for kids - The list of 5 words
1-

Print the game in Pdf format thanks to the button above "PRINT THE GAME"

2-

Choose one of the lists of 5 words proposed in the document

3-

Memorize the list for 10 seconds (or more if necessary)

4-

Hide the list

5-

Write the 5 words on a blank sheet of paper

6-

When you're finished, check your answer
Tip: You can imagine a story or pictures using the words from the list, it will help you to remember more easily.