Memory game - Grid of black squares to print
Print the free memory game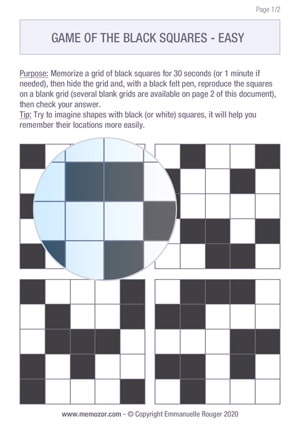 A printable memory game where you have to memorize the locations of black squares on a grid. You can give your answer by colouring one of the blank grids included in the document.
Click on the button below to download the game in Pdf format and then print it.
You will find the detailed purpose of this game in the document or at the bottom of this page.


Print the game
(PDF format)
Purpose of this memory game - The Grid of black squares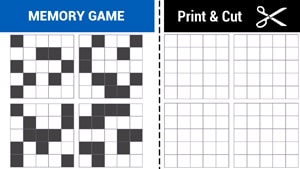 1-

Print the game in Pdf format thanks to the button above "PRINT THE GAME"

2-

Choose one of the grids of black squares proposed in the document

3-

Memorize the grid for 30 seconds (or more if necessary)

4-

Hide the grid

5-

Thanks to a black felt pen, reproduce the squares on a blank grid therefor (that you will find on page 2 of the document)

6-

When you're finished, check your answer
Tip: Try to imagine shapes with black (or white) squares, it will help you remember their locations more easily!