Free printable Matching games for seniors (9)
Author:

Emmanuelle ROUGER
/
Published by

Memozor



Published on February 16, 2012 /
Last modified on May 18, 2022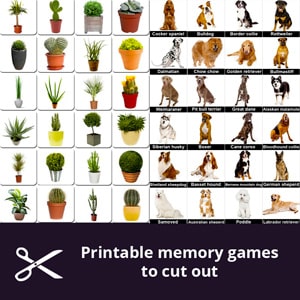 We offer you a Large range of Free Printable matching games for seniors. Discover our Cards to Cut out with People Faces, Objects, Flowers, Dogs, Green plants, as well as Learning games such as the Country Flags od the world... The matching game is a Great game for memory training!
Choose the printable game you prefer from the list below and then:
Print the pages in Duplicate in order to obtain pairs of identical cards.

Glue them on a cardboard sheet

, in this way, the cards will be more rigid and thus stronger. It it also allows to avoid transparency, thus it will be impossible to guess which image is on the hidden side.
And, finally, Cut out the cards following the outline, your "Homemade" Matching game is ready, start playing and enjoy! You can play at home with family or friends.
Choose a Printable Matching Game