Printable Animal crossing Cards
Print the 200 Animal Crossing cards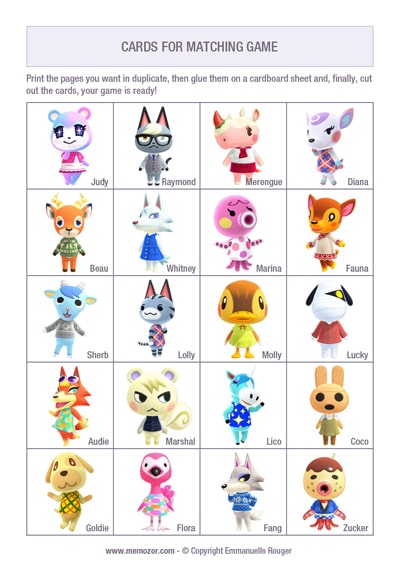 Printable matching game Animal Crossing
A PDF with more than 200 Villagers cards to print from the World of Animal Crossing. The name of each villager is written on the card. Click on the button below to print the cards.
As there are many pages in the PDF (9 pages in all), we grouped the animals belonging to the same family on the same page. That will help you choose the ones you are interested in. You will find:
Page 1:

An assortment of the most popular animals (all families)

Page 2:

Cats, Dogs et Wolves

Page 3:

Squirrels, Hamsters, Mouses, Rabbits, Hedgehogs, Skunk

Page 4:

Birds, Ducks, Ostriches, Seagulls, Pelicans, Chickens, Eagles, Owls, Dodo

Page 5:

Lions, Tigers, Monkeys, Gorillas, Deer, Antelopes, Anteaters, Tapirs

Page 6:

Rhinoceros, Elephants, Mammoth, Hippopotamus, Crocodiles, Alligators

Page 7:

Goats, Sheep, Pigs, Bulls, Cows, Horses

Page 8:

Bears, Kangaroos, Koalas

Page 9:

Penguins, Frogs, and others (Mole, Axololt, Turtle, Octopus)
PRINT THE ANIMAL CROSSING CARDS (PDF)
Cut out the Villagers Cards and make a Matching game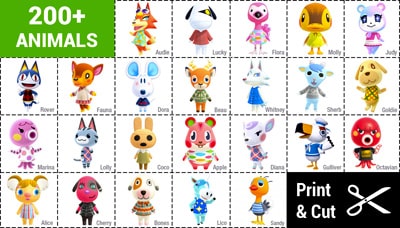 Free printable cards Animal crossing
To make an homemade matching game, print out the PDF in duplicate in order to get pairs of identical cards and then cut out the villagers cards. Before cutting out the printed page, you can glue it on a cardboard sheet, in this way, the cards will be more rigid and thus stronger. It also allows to avoid transparency, thus it will be impossible to guess which animal is on the hidden side. Once the cards are cut out, your matching game is ready, you can start playing with these cute animals from the Animal crossing world.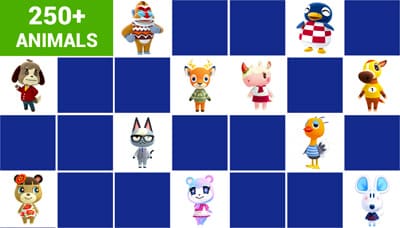 MATCHING GAME ANIMAL CROSSING ONLINE
Play with more than 250 animals from the video game "Animal crossing" and find matching pairs of identical villagers. In each game you will discover new characters all cuter than each other!
PLAY THE MATCHING GAME ANIMAL CROSSING
Animal crossing Cards included in the PDF
Here are some of the villager cards that you will find in the PDF as well as the name (English/French) and the family of animals to which they belong:


| | | | | |
| --- | --- | --- | --- | --- |
| | K.K. Slider | Kéké Laglisse | Dog | male |
| | Gulliver | Gulliver | Seagull | male |
| | Goldie | Mirza | Dog | female |
| | Apple | Esther | Hamster | female |
| | Octavian | Octave | Octopus | male |
| | Cube | Cube | Penguin | male |
| | Mabel | Layette | Hedgehog | female |
| | Bones | Nonos | Dog | male |
| | Hamlet | Jojo | Hamster | male |
| | Elvis | Elvis | Lion | male |
| | Groucho | Ronchon | Bear | male |
| | Kitty | Kitty | Cat | female |
| | Tom | Tom | Cat | male |
| | Kicks | Blaise | Skunk | male |
| | Rover | Charly | Chat | male |