The World of Animal crossing™
History of this video game series
Nintendo, one of the world's leading video game companies, created the fantastic world of Animal Crossing, a series of life simulation games. This world populated by adorable animals was born in 2001 with the release of the games Dōbutsu no Mori® and Dōbutsu no Mori+® in Japan only. This release was very quickly followed by the game Animal crossing® in 2002 on Nintendo gamecube in North America and soon after in Europe. Due to the success of these first games, a series of video games followed. Here, we will only tell you about the 2 best-selling games:
Animal Crossing New Horizons® (on Nintendo Switch): released in

2020

and sold more than

22.4 millions

copies*
Animal Crossing New Leaf® (on Nintendo 3DS): released in

2012

and sold more than

12.5 millions

copies*
* October 2020 figures


Animal Crossing New Leaf®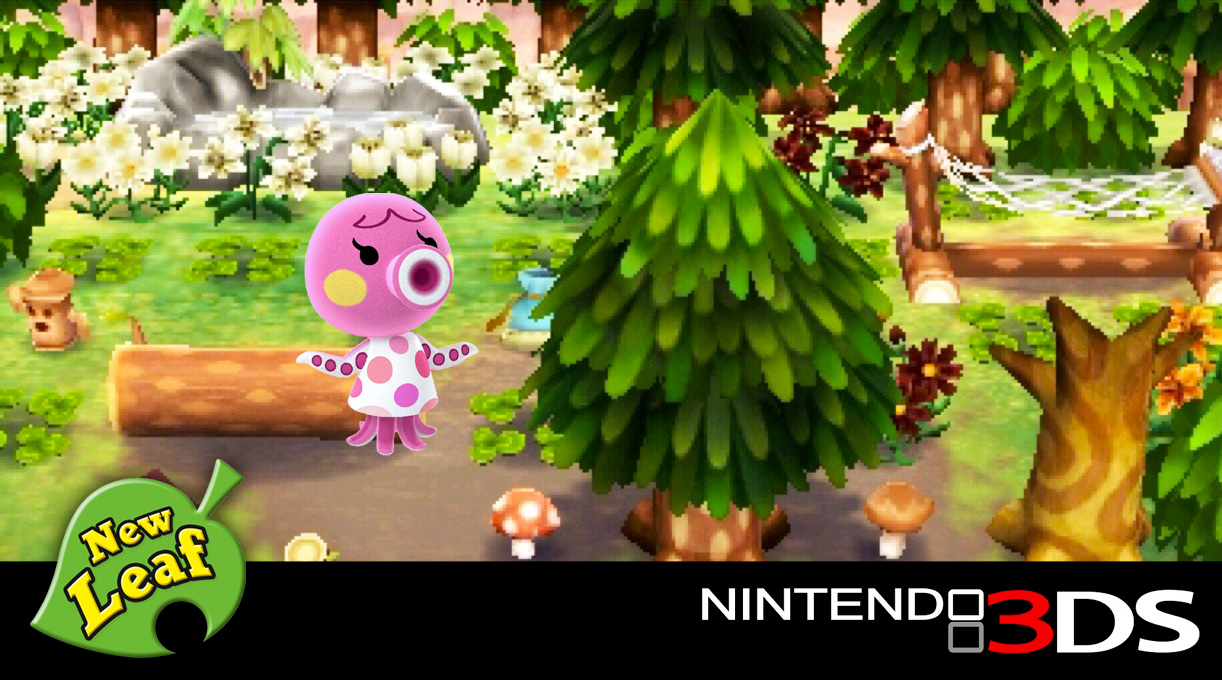 You start in this world by taking a train to a village populated by animals where you dream of moving. One of the peculiarities of this village is that you are the only human villager, the other inhabitants are animals resembling humans in their personality, the way they stand, speak etc. When you arrive at the station, you are greeted by these charming inhabitants and you are surprised to learn that you are the new mayor, what you didn't expect! And instead of a house you are going to live in a tent.
As mayor, you will be able to make decisions about development and regulation for the the village. You will need to save some Bells (the local currency) earned in various ways. This bells will allow you to build your house and improve the village. This is a real-time game with a real day/night cycle (when it is night in your house it is also night in the game) and seasons (if you play in July, it will also be summer in the game). One of the strengths of this game is that you can do what you want and when you want! You can hunt for butterflies, catch various species of fish, chat with the villagers, garden, collect fossils for the museum's collection and much more... Even if one of the objectives is to collect money to be able to evolve, there is no urgency or obligation, everyone can go at their own pace, get to know the inhabitants better and enjoy this peaceful village.


Animal Crossing New Horizons®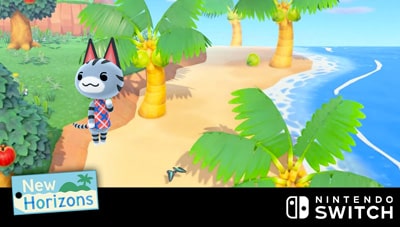 This world has common features with the New Leaf version such as the real-time game, the village populated by animals (but without being mayor this time) and it is also a game without any imposed objectives, and without any competition. It is however distinguished by the location of the village on a small island paradise. There too you will be able to earn bells. For that, you can sell the the plants you have dug up, the fish you have caught, the objects you have collected (branches, weeds, fossils...), for example.
Thanks to this money raised you can go to a shop to buy gardening accessories (shovel, axe, watering can...), a fishing rod, a butterfly net, tree shoots or bags of seeds, among others.
A new feature in "New Horizon" is the appearance of another type of currency called Miles Nook, which is similar to a reward because you earn it by doing certain tasks: saying hello to a villager, collecting wood... These Miles can be spent at an ATM and will allow you to make other types of purchases than those made with bells. You will have the possibility to improve your backpack (so that it can hold more items), to buy other equipment. But what is by far the most interesting is that this currency will allow you to buy Miles Nook tickets (the equivalent of travel tickets). These will allow you to visit other islands, whether it is a friend's island or a mysterious island. These trips will be an opportunity to bring back plants or objects that do not exist on your island. As for the activities on the island, you will be able to swim and scuba dive, which was not possible in "New Leaf".


The Animal crossing villagers
In the world of animal crossing, there are always many species of animals. If "New Leaf" had 333 different animals, with "New Horizons" it is the 333 characters of New Leaf and 58 more animals making 391 animals in all.
There are 35 large categories of animals: cats, dogs, squirrels, wolves, deer, horses, bears, rhinos, alligators, elephants, hippos, monkeys, gorillas, mice, hamsters, birds, ducks, eagles, hens, ostriches, cows, bulls, pigs, goats, rabbits, sheep, lions, tigers, kangaroos, koalas, penguins, anteaters, frogs, octopuses.


Here is a non-exhaustive list of the most popular villagers and their names (English/French):


Raymond
Raymond
Cat
male
Marina
Marina
Octopus
female
Marshal
Mathéo
Squirrel
male
Zucker
Marvin
Octopus
male
Sherb
Capri
Goat
male
Judy
Laura
Bear
female
Bob
Robert
Cat
male
Fauna
Bibi
Deer
female
Audie
Monica
Wolf
(Fox)
female
Beau
Stefaon
Deer
(Impala)
male
Lolly
Linette
Cat
female
Lico
Julian
Horse
(Unicorn)
male
Diana
Didi
Deer
female
Merengue
Patty
Rhino
female
Ankha
Neferti
Cat
female
Coco
Coco
Rabbit
female
Lucky
Ramsès
Dog
male
K.K. Slider
Kéké Laglisse
Dog
( Jack Russel)
male
Kid cat
Câlin
Cat
male
Whitney
Blanche
Wolf
(Arctic Wolf)
female
Fang
Pierrot
Wolf
(Arctic Wolf)
male
Molly
Molly
Duck
(Mallard duck)
female
Flora
Justine
Ostrich
(Pink flamingo)
female
Scoot
Scooter
Duck
male
Dom
Bouloche
Sheep
male
Cherry
Anna
Dog
female
Stitches
Miro
Bear
male
Goldie
Mirza
Dog
(Golden Retriever)
female
Hornsby
Cornio
Rhino
male
Author:

Emmanuelle ROUGER
/
Published by

Memozor



Article published on 25 october 2020 /
Last modified on 25 october 2020