Sport Matching games - Online and free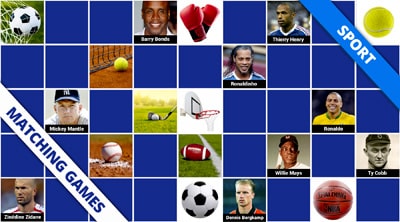 Many Sport matching games such as ski, golf, baseball, american football...
These games are responsive, indeed they are compatible with all devices: desktop, tablets and smartphones. The content and the games adjust automatically to your device, so do not hesitate to play the game on a tablet or a smartphone.
Choose the game you prefer from the list below and have fun!


Author: Emmanuelle ROUGER / Published by Memozor


Choose a Matching Game
Sports
Some sports are well known worldwide, for example:
Baseball: A team sport, very popular in the United States, which is played with a bat, a ball and a glove for catch the ball.
Soccer: A team sport, most often played on grass, where the object is to put the ball into the goal of the opposing team and that without using the arms, most often using a kick.
Rugby: A team sport in which the object is to carry the ball over the opponents' goal. For that, players kick or run with the ball towards the opposition's goal line to score points but, unlike football, the hands can be used for passes backwards or sideways to a teammate.
American Football: A match is played in 4 quarters, in each quarter, one team is in attack mode while the other is in defense mode. The objective for the attacking team is to score a touchdown (6 points) by carrying the ball into the End Zone. This can be achieved by either throwing the ball to a teammate or running with the ball.
Golf: An individual sport in which the player strike a ball with a club. There are 18 (or fewer) holes on a course. The object of the game is to finish the course in the fewest possible number of strokes.
Basketball: A team sport played exclusively with the hands. Players have to shoot a ball through a hoop (called basket) elevated 10 feet(3.05m) above the ground.
Tennis: The most famous of racket sports.
Boxing


Do you known Cricket and Croquet?
Cricket: A team sport originated in south-east England and very popular in the United Kingdom. This sport is played on grass with a ball covered with red leather and a rectangular shaped and flat bat. The pitcher have to knock down the wicket of the opposing team. This wicket is defended by a batsman and it's made up of three small wooden poles that are planted in the ground.
Croquet: It originated in France during the Middle Ages and it's now widely used in the UK. This sport is most often played on grass, and the object of the game is to hit a wooden ball with a mallet through hoops on a course.