Big memory match game - greatest soccer players of all time
Play Big memory match game online :
Please wait a few seconds...

Big & free memory match game - Greatest soccer players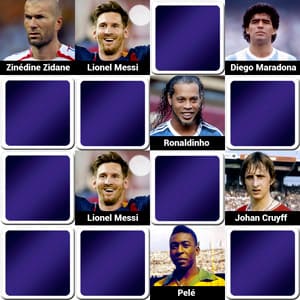 Big Memory match game - Greatest soccer players
A very big Memory match game with more than 70 players among the world's best soccer players.
For example:
Brazil: Ronaldinho, Ronaldo, Kaká, Pelé, Garrincha, Zico, Zizinho...
France: Thierry Henry, Didier Drogba, Zinédine Zidane, Just Fontaine, Raymond Kopa, Michel Platini...
Italy: Gianni Rivera, Giuseppe Meazza, Franco Baresi, Giacinto Facchetti...
Germany: Franz Beckenbauer, Lothar Matthäus, Fritz Walter, Karl-Heinz Rummenigge, Uwe Seeler...
Spain: Sergio Ramos, Ferenc Puskás, Francisco Gento...
Portugal: Cristiano Ronaldo, Eusébio...
England: Bobby Charlton, Stanley Matthews, Bobby Moore, Kevin Keegan...
Argentina: Lionel Messi, Alfredo Di Stéfano, Diego Maradona, José Manuel Moreno, Omar Sivori...
Chili: Elías Figueroa...
Netherlands: Dennis Bergkamp, Johan Cruyff, Marco van Basten, Ruud Gullit...
And many other players from other countries...
How to play big or giant memory game online:
In this big memory game, There are many cards which are arranged in 9 columns and 6 rows with a total of 54 cards or 27 pairs. It's a very difficult game and your memory will have to work. You have to Reconstruct the pairs of cards by turning them 2 by 2. If the cards turned face up are the same (a pair) you win and the pair disappears from the game otherwise the cards are automatically turned face down and you need to make a new try. Find all the pairs in the least moves and in a shortest time.
You will find the Quick memory game rules here, or you can also Download the Printable game rules in PDF format.
You can replay the same game as many times as you want: every time you start a new game, a random selection of the cards ensures a different game, so you can replay endlessly.


This game is compatible with all devices: desktop, tablets and smartphones. The content and the game adjust automatically to your device, so do not hesitate to play on a tablet or a smartphone.
Why play big or giant memory game:
A large number of cards for this giant memory game so it's a great exercise to train adults memory. It's also a good practice to help you memorize the locations of different cards and you will be quickly surprised by your progress. This big memory game will reinforce and boost your visual memory storage capacity in a playful way.