Learning matching games - Online and free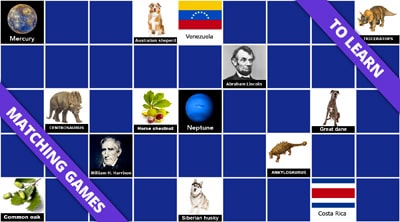 Find here many matching games for kids or adults to learn while having fun! Find here a selection of smart games for children who can read, thus allowing them to learn interesting things. According to their own desires, the youngest kids will be able to revise multiplication tables, learn the name of their favorite dinosaurs or even learn the flags of the countries in the world...
These games are responsive, indeed they are compatible with all devices: desktop, tablets and smartphones. The content and the games adjust automatically to your device, so do not hesitate to play the game on a tablet or a smartphone.
Choose the matching game you prefer from the list below and have fun!


Author: Emmanuelle ROUGER / Published by Memozor


Choose a Matching Game