Big memory game - Name of the presidents of the USA
Play Big memory game :
Please wait a few seconds...

Big memory game - Name of the presidents of the USA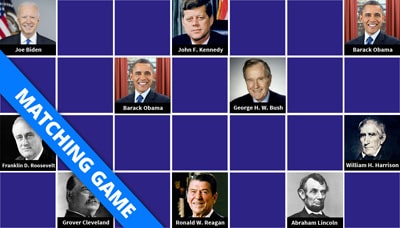 Big Memory - Name of the presidents of the USA
It's a very big Memory game with all the presidents of the USA, the name of each president is written on the card. It's a perfect game to review american history while having fun! So, come and play!


The presidents of USA
The President of the United States is the head of state and head of government of the United States.
All in all, 45 presidents have succeeded each other from 1789 until today. The first one was George Washington and the 45th and current president is Donald Trump.
Franklin D. Roosevelt is the president who served the longest, indeed he served over twelve years, before dying early in his fourth term in 1945.


See the printable version of this memory game in the section Printable memory games of Memozor.


How to play big or giant memory game online:
In this big memory game, There are many cards which are arranged in 9 columns and 6 rows with a total of 54 cards or 27 pairs. It's a very difficult game and your memory will have to work. You have to Reconstruct the pairs of cards by turning them 2 by 2. If the cards turned face up are the same (a pair) you win and the pair disappears from the game otherwise the cards are automatically turned face down and you need to make a new try. Find all the pairs in the least moves and in a shortest time.
You will find the Quick memory game rules here, or you can also Download the Printable game rules in PDF format.
You can replay the same game as many times as you want: every time you start a new game, a random selection of the cards ensures a different game, so you can replay endlessly.


This game is compatible with all devices: desktop, tablets and smartphones. The content and the game adjust automatically to your device, so do not hesitate to play on a tablet or a smartphone.
Why play big or giant memory game:
A large number of cards for this giant memory game so it's a great exercise to train adults memory. It's also a good practice to help you memorize the locations of different cards and you will be quickly surprised by your progress. This big memory game will reinforce and boost your visual memory storage capacity in a playful way.