Matching game for toddlers - Barbapapa family - online and free
Play Matching game
NEW !
You can
change the color of the cards
thanks to the
"Design" buttons
below the game.
Moves: 0


Images are currently loading, please wait a few seconds
Matching game for toddlers - The Barbapapa family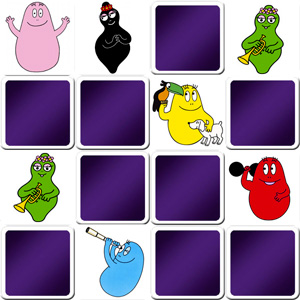 matching game Barbapapa family for toddlers
A great Matching game for toddlers with all the characters from the Barbapapa family: Barbapapa, Barbamama, Barbazoo, Barbabravo, Barbabelle and many others... toddlers will love this matching game!!!


How to play our online Matching games for toddlers?
Toddlers just have to click on "START" to play this matching game. If your child knows how to handle the mouse, he can play on a desktop, but if he's too young, we recommend that he plays on a tablet or a smartphone, it will be easier for him!


By default, there are 12 cards (6 pairs) on the board. However, you can increase the number of cards, and therefore the difficulty, thanks to the buttons located below the game.
If you think that the game is too fast or too slow for him, you can adjust the speed with the buttons "FAST", "STANDARD", "SLOW" or "VERY SLOW". He will have more time to memorise the cards with the "VERY SLOW" mode.


For this matching game, 3 game modes are at your disposal:
Single player mode (SOLO)

: Your toddler can play quietly until he has found all the pairs.

2 players mode with you sitting next to him (WITH A FRIEND)

: This is the perfect occasion to have a good and fun time with your child.

2 players mode against the computer (AGAINST COMPUTER)

: In order to win, he will have to find more pairs than the computer. We advise you to set the difficulty level to "EASY".


At the top right-hand side of the game, a black button allows you to turn the game sound on (Unmute) or off (Mute).


This game is compatible with all devices: desktop, tablets and smartphones, IOS or Android. The content and the game adjust automatically to your device, so don't hesitate to play on a tablet or a smartphone.
The purpose of this memory game:
Your Toddler has to make pairs of cards by turning them 2 by 2. When the two cards match, it's a pair! He keeps the cards and has the right to play again, otherwise the cards are automatically turned face down and he has to make a new try.


For the "SOLO" mode

, the purpose of the matching game is to find all the pairs in the least moves and in a shortest time.

In the 2 players mode

: the player who finds the most pairs wins.


Every time your child starts a new game, a random selection of the cards ensures a different game, so he can replay endlessly!


See the Quick matching game rules here, or you can also Download the Printable game rules in PDF format.