Memory game items for baby - online and free
Play Memory game :
Please wait a few seconds...

Memory game items for baby: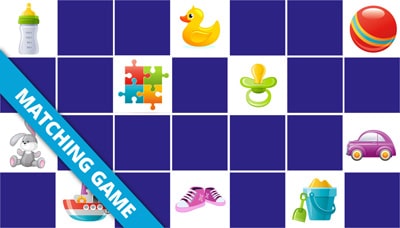 memory game items for baby
A memory game for baby with different items: the cards are simple items baby will like them! duck or whale bath, a beach ball colorful, lollipop or a bottle... Baby will recognize all these objects that are familiar to him!


See the printable version of this memory game in the section Printable memory games of Memozor.


How to play free memory game online for toddlers:
If your baby is too young, he probably doesn't know how to handle the mouse, so we recommend that baby play on a tablet, it will be easier for him!
A game with very few cards, suitable for toodlers. The cards are arranged in 4 columns and 3 rows for a total of 12 cards (6 pairs), but you can change the number of cards on the board thanks to the buttons located below the game. Kids have to make pairs of cards by turning them 2 by 2. If the cards turned face up are the same (a pair) baby win, otherwise the cards are automatically turned face down and baby have to make a new try. The purpose of this game is to find all the pairs in the least moves and in a shortest time.

You will find the Quick memory game rules here, or you can also Download the Printable game rules in PDF format.

Every time a new game is starting, a random selection of the cards ensures a different game, so babies can replay endlessly!

This game is compatible with all devices: desktop, tablets and smartphones. The content and the game adjust automatically to your device, so do not hesitate to play on a tablet or a smartphone.
Why play memory game for toddlers:
A great game to train toodlers's memory in a playful way. Observe how babie memorize the locations of the different cards, he will surprise you!
Every time you start a new game, a random selection of the cards ensures a different game, so babies can replay endlessly!