Multiplication Matching game - Play Online for Free
Play and Learn your Times Tables
NEW !
You can switch to

Full screen mode

or adjust the

Zoom level

using the buttons above the game.
You can switch to

Vertical layout

using the button above the game.
Change the color of the cards using the
"Design" buttons
below the game.


100%



Mistakes: 0
Moves: 0

Images are currently loading, please wait a few seconds
Rules of the Multiplication Matching game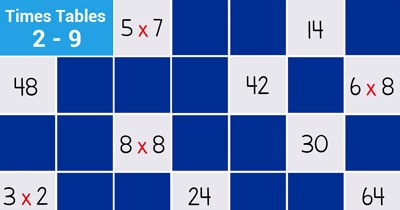 Multiplication Matching game - Online and Free
Find the Matching Pairs by matching each Multiplication Card with the correct Result Card. This Online, Free Matching Game, will allow you to Easily Learn your Multiplication Tables while having fun and without making any effort.
You will quickly memorize your tables from 2 up to 9. To change the Times Table, use the buttons bellow the game.
You also have the option to change the Number Format: School format or Standard format, it's up to you to choose the one you prefer!
Want more times tables games? Discover all the Multiplication Games from Memozor. These games are designed to help children who can't learn their multiplication tables. You will see that the playful approach to maths is very appealing to children. No more Times tables chores! Children will be autonomous and will not need the help of parents anymore.
The purpose of the Matching Game is to memorize the locations of the cards in the game and to make pairs of cards by turning them over 2 by 2. If you turn over the Multiplication Card and the corresponding Result Card, it's a pair! You win the pair and you can play again, otherwise the cards are automatically turned face down and you have to make a new try.


Every time you start a new game, a random selection and a random positioning of the cards ensure you a different game than the previous one, so you can play as many times as you want!


For more details, see the Matching game rules here, or you can also Download the Printable game rules in PDF format.


Effectiveness of this game in memorizing Multiplication Tables
Repetition is essential for good memorization, so the more you play, the more you memorize your multiplication tables without even realizing it! So don't hesitate to play with the same table again and again until you know it inside out.


When you have learned a whole table, don't forget to play it again a week later, 5 or 10 minutes will be enough! This will help you not forget the table you learned the previous week and moreover you will remember it for a long time.