Online Interactive multiplication Chart
Hover over this Online multiplication Chart
Thanks to this online multiplication chart, easily find the result of a multiplication! To do so, simply hover over the chart with your mouse (or just touch a cell with your finger if you are using a tablet or smartphone). An easy-to-use tool to make math more fun!
NEW !
You can
change the Look and the Size of the Chart
thanks to the buttons below.
The Chart is loading, please wait a few seconds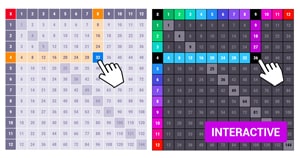 Online Interactive multiplication Chart
Do not hesitate to let the children customize the chart before using it. By personalizing the tool according to their tastes, they will enjoy using it to do their homework or memorize their multiplication tables. The interaction with the chart by hovering the mouse allows a playful approach to mathematics. This tool is easy to use and the numbers are easy to read. Children will quickly adopt it!
This interactive chart has several advantages:
It allows you to quickly understand how to read a multiplication chart, also called Pythagoras Table.
It is very easy to use: just hover over the chart with your mouse (or use your finger on tablets and smartphones).
It helps to quickly find the result of a multiplication which is at the intersection of the row of the 1st number and the column of the 2nd number. This result appears on a colored background when hovering and it is also displayed in a larger size above the table.
By selecting one of the

"Color Coded" options

, a specific color is assigned to each table. This option will help the children to memorize their times tables via visual memory.
The many customization options of this online multiplication chart make the tool fun. Indeed, the child will be able to change the color of the grid or the background. Several themes are proposed to him: Minecraft decor, animals, underwater landscape, Halloween atmosphere and many others to discover... It is always possible to opt for a neutral background (solid color or gradient) if the images disturb the child's attention.
Features of this interactive multiplication chart
Bellow the chart you will find several setting buttons.
Size of the grid:

You can switch from a 10x10 to a 12x12 grid according to your needs.

Numbers:

You can choose a standard font or a school font. Select the one that suits you best.

Diagonal:

Choose to highlight or not the digonal (1x1, 2x2, 3x3, 4x4, 5x5, 6x6, etc.). When the option is enabled, the diagonal of the chart appears in a different color.

Chart:

Choose the color of the chart (14 options are available).

Decor:

To customize the background, you can choose an image, a gradient or a solid color (24 themes are available).

Use of Cookies:

Thanks to cookies, once you have customized your table, it will be stored in memory. So, when you come back to use it a few days later, you will find it exactly the same!
Here are some examples of themes: