Printable matching game for kids - The minions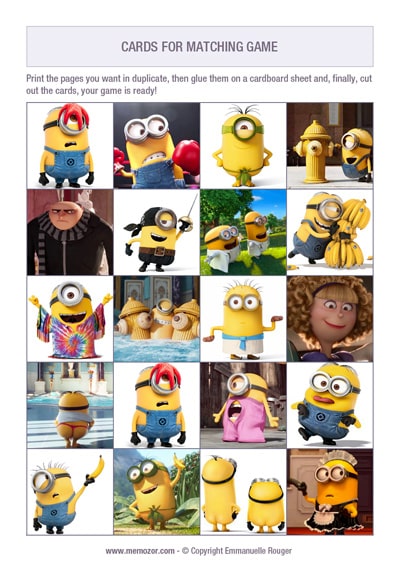 Printable matching game for kids
The minions
Printable memory cards for kids. You will find on these cards the famous characters from "The minions" moovie: Bob, Stuart and Kevin. Simply print and cut them to have an original matching game homemade to play with family or friends!


How to print the matching game for kids:
All the printable memory cards are included in the pdf file to download. So, click on the button "PRINT" below to download and then print the memory cards


How to make the Minions cards:
Print two copies of the Memory or Matching game in pdf format in order to obtain pairs of similar cards. Once cards games have been printed out, you only have to cut them following the outline. Before cutting the printed page, you can optionally glue it on a cardboard support. In this way, the cards will be more rigid and thus they will be stronger. It also helps to avoid transparency, indeed it will not be possible to see through the card and to guess what is the picture on the hidden side. And then, start playing and enjoy! All printable Matching games on www.memozor.com are free.