Matching games Comics - Online and free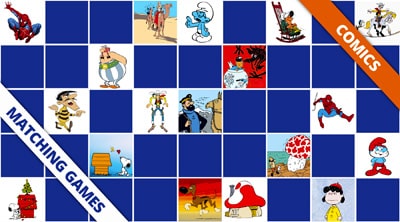 Many Comics matching games such as Spiderman, The X-men, Superman, The smurfs, Lucky Lucke, Tintin...

These games are responsive, indeed they are compatible with all devices: desktop, tablets and smartphones. The content and the games adjust automatically to your device, so do not hesitate to play the game on a tablet or a smartphone.
Choose the game you prefer from the list below and have fun!


Author: Emmanuelle ROUGER / Published by Memozor


Choose a Matching Game