Learn dinosaurs names
An intelligent online game to learn the dinosaurs names while having fun. Children will learn the names of these fascinating animals without even realizing it. Playing, learning is always easier and becomes a breeze!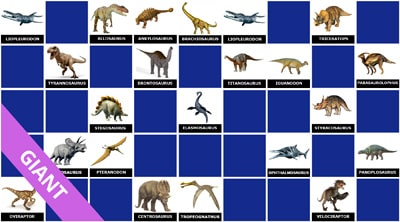 Dinosaurs name
Dinosaurs game
In this game the cards are placed face down in five columns and four rows, so a total of 20 cards at the beginning of the game. On each card there is a dinosaur and his name . For each game play, positioning of the cards is random, which allows the child to replay indefinitely. This is a clever game because the child, will learn the dinosaurs names written on the cards while having fun.


Rule of the game
Find the 10 pairs of dinosaurs cards turning them face up 2 by 2, in the least moves and in the shortest time.


Game created on Saturday, 21 March 2015 13:17

Last Updated: Thursday, 13 August 2015 08:48