All Times tables Chart - Printable & Free
Print All the times tables Chart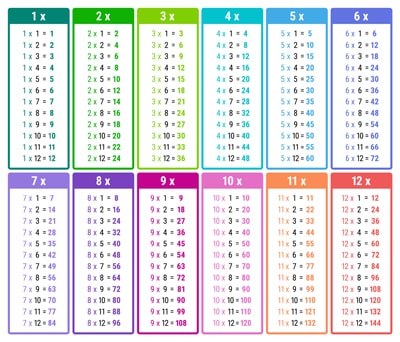 A pretty chart with All the times tables to print in A4 format (PDF). We have assigned a different color code for each times table, with a nice color gradient. The colors will help you memorize all your multiplication tables from the 1 to the 12 times table.
Other colors are available for this resource, feel free to look below and choose your favorite one!
The PDF document contains 2 pages to cut and assemble. You will get a poster of about 14"x12". You can post it on the wall of your room or store it in your math binder (once folded, it has a standard size A4 of 6,4"x10,8").
Click on the button below to print all the times tables for Free.
You will see that there are times tables that you don't need to learn by heart because they are very easy. As for the others, you will have to remember them and that's the whole point of color coding to make it easier for you! Here are the colors we have chosen:
Dark green for the 1 times table, green for the 2 times table, light green for the 3 times table, turquoise for the 4 times table, blue for the 5 times table, dark blue for the 6 times table, purple for the 7 times table, dark purple for the 8 times table, pink for the 9 times table, light pink for the 10 times table, orange for the 11 times table and red for the 12 times table.
In case you want to have all the times tables in a larger format than this PDF, you can print each table individually in A4 format and then cut them out. When it's done, arrange the charts from 1 to 6 side by side and then, under this first row, make a second row with the charts from 7 to 12 and finally fix them with scotch tape. You will obtain a large poster of about 26"x22".
Our other templates for all the Times tables
We have several templates and colors available, you will undoubtedly find the one that suits you best! The multicolored times tables will bring fantasy while facilitating the memorization. The black and white charts will be perfect if you prefer sobriety or if you want to save ink and also if you prefer to color the times tables yourself using your pencils or markers. Feel free to click on the images to preview the PDF. Use the "PRINT" button below the image to download the template of your choice.


Our single Times tables (PDF)