Simon game - Iphone keyboard
Play the Simon game


Score:
0
Your high score:
0
Simon game with Iphone keyboard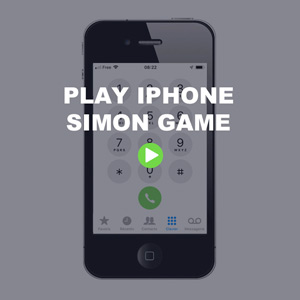 Iphone keyboard
Online Simon game with an Iphone keyboard. This game reproduces the keys of an iphone keyboard, you have to memorize the keys pressed and reproduce the series of digit. So, in this game, there is 12 keys, the classic keys of an iphone, 10 digits (0,1,2,3,4,5,6,7,8,9) and the 2 special keys: sharp (#) and star(*) keys. Every time you press a key it mimics the sound of the iphone keyboard. If you wish, you can change the speed of the game by clicking on the buttons located below the simon game.


How to play our online Simon?
The principle of the game is simple: the player have to memorize the series of illuminated keys and reproduce it. the purpose of the game is to reproduce the longest series of colors / sounds randomly generated by the Simon, it's an endless game!
Find the the detailed rules here.

In our Online Simons, you can change the game's difficulty level thanks to the buttons located below the game. The default mode is "AUTO", that means that the speed will gradually increase. For beginners, we recommend that you start with a slow speed game (mode "SLOW") and then you can progressively increase the difficulty level.

If the sound effects of the game bothers you, you can mute the sound thanks to the button located at the top right corner of the game.

These Simon games are free and are compatibles with all browsers and with all devices: desktops, tablets, smartphones, IOS or Android. Theses games are responsive, indeed the content of the page and the game adjust automatically to your device, so you can play wherever you are!


Why play Simon game?
The Simon is is an excellent exercise to train your memory. Thanks to this memory game, the more you pay, the more you stimulate and improve your memory.

The serie of illuminated keys is randomly generated, so you can replay as many times as you wish because every time you play a new game, the game will be different!
On www.memozor.com, all the Simon games are free and unlimited, they allow you to train your memory, or simply to have fun, and this, as many times as you wish. So do not hesitate to play our Free Simon!