Play Memory game :
Memory game Halloween pumpkin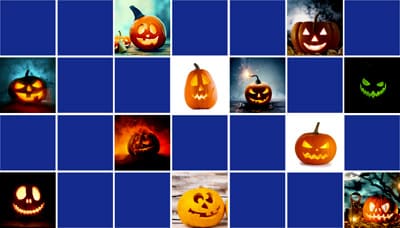 Halloween and pumpkin memory
A great halloween memory game for kids with many Halloween pumpkins of all sizes and all shapes. The pumpkin is the emblematic cucurbit of Halloween. In this game, some pumpkins are cute and others are terrifying! Some are very similar, so beware of traps!


How to play free memory game online:
In this free games, the cards are arranged in columns and rows. The children can change the number of cards on the board, and so the level of difficulty, thanks to the buttons located below the game.
Kids have to reconstruct the pairs of cards by turning them 2 by 2. If the cards turned face up are the same (a pair) they win and the pair disappears from the game otherwise the cards are automatically turned face down and they need to make a new try. Find all the pairs in the least moves and in a shortest time. Children will find the full memory game rules here.
They can replay the same game as many times as they want: every time a new game starts, a random selection of the cards ensures a different game, so kids can replay endlessly.

This game is compatible with all devices: desktop, tablets and smartphones. The content and the game adjust automatically to your device, so do not hesitate to play on a tablet or a smartphone.
For kids who want some games with more cards, they will find them in giant or big memory games

Why play memory game for kids:
Great exercise to train kid's memory. It's also a good practice to help them memorize the locations of different cards and you will be quickly surprised by their progress. But these memory games will especially allow them to have fun thanks to the many themes specially designed for children.
The pumpkins and Halloween:
Do you know that the Halloween tradition was imported into the United States by the Irish around 1845? Originally this celebration was called Samain's Feast. Instead of pumpkin, it was turnips that were hollowed out to put candles to reproduce the lantern of Jack Stingy, the cursed, a character from an Irish legend. When they arrived in the USA, the Irish began to use pumpkins instead of turnips.

The main decorative items used during Halloween party are the pumpkin, spiders and spider webs. Two colors are very used in the decoration, the black and orange (like pumpkin!)

During the Halloween night (the night of 31 October to 1 November), the children are dressing up in scary costumes (monsters, vampires, ghosts, witches, for example) and go to ring the door asking for candy. This party party is celebrated mainly in the United States, United Kingdom, Ireland, Canada and Australia.