Matching games the Minions - Online and free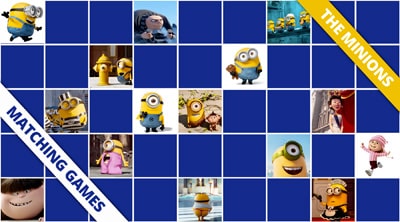 Find here several Matching games with the Minions. One game with pictures from the minions movie whose the three inseparable characters: Kevin, Bob and Stuart. Another game with all the characters from "Despicable me" like Gru a supervillain and jelly manufacturer, the three little girls: Edith, Agnes and Margo, the Dr Nefario for example and many others... Some pictures with the minions are very funny, so choose your favorite game and play!
These games are responsive, indeed they are compatible with all devices: desktop, tablets and smartphones. The content and the games adjust automatically to your device, so do not hesitate to play the game on a tablet or a smartphone.
Choose the game you prefer from the list below and have fun!


Author: Emmanuelle ROUGER / Published by Memozor


Choose a Matching Game