Play Memory game :
Memory game The minions "Despicable me":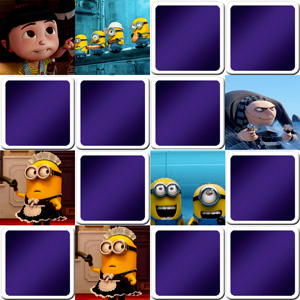 The minions "Despicable me" memory game
A great Memory game with minions and other pictures from the movie "Despicable me" .


The movie "Despicable me":
You will find in this game pictures from the movie "Despicable me" with the minions. There is the famous supervillain Felonius Gru, Lucy Wild who will become his wife, and the three little girls: Edith, Agnes and Margo who will become their adopted daughters. This characters appear for the first time in the first film in the series "Despicable me" (2010). There is, of course, minions characters: small, yellow and cylindrical creatures, who have one or two eyes. Minions wear black gloves and small black boots, they have strange metal goggles too; they are funny and speak in an incomprehensible language. You will discover in this game other characters from the others movie "Despicable me 2" or "Despicable me 3" like Bratt Balthazar (a former child star in the 80's), Dru Gru the twin brother of Felonius Gru and Marlena Gru: Felonius Gru and Dru Gru's mother.
How to play memory Minions:
In this memory game, the cards are arranged in columns and rows. You have to reconstruct the pairs of cards by turning them 2 by 2. If the cards turned face up are the same (a pair) you win and the pair disappears from the game otherwise the cards are automatically turned face down and you need to make a new try. Find all the pairs in the least moves and in a shortest time. You will find the full memory game rules here.
Every time you start a new game, a random selection of the cards ensures a different game, so you can replay endlessly.
Why play memory game Minions:
Great exercise to train memory. This game will reinforce and boost your visual memory storage capacity in a playful way.