Play Memory game :
Memory game Star Wars droids and robots: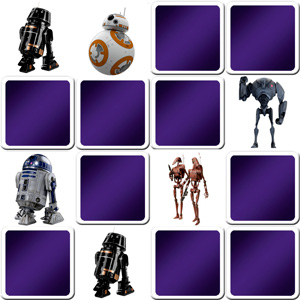 Star Wars movie droids and robots game
A great Memory game with droids like and robots from Star Wars.


Star Wars droids and robots:
You will find in this game a lot of droids like Probe Droid, battle droid, C-3PO and robots like R2-D2 or BB-8 from Star Wars. Do you know that BB-8 robot made its first appearance in "The Force Awakens" (2015)? You may already know C-3PO, a fussy, whiny and cowardly golden droid or the famous R2-D2 a wily and courageous, silver and blue robot.
How to play memory Star Wars:
In this memory game, the cards are arranged in columns and rows. You have to reconstruct the pairs of cards by turning them 2 by 2. If the cards turned face up are the same (a pair) you win and the pair disappears from the game otherwise the cards are automatically turned face down and you need to make a new try. Find all the pairs in the least moves and in a shortest time. You will find the full memory game rules here.
Every time you start a new game, a random selection of the cards ensures a different game, so you can replay endlessly.
Why play memory game Star Wars:
Great exercise to train memory. This game will reinforce and boost your visual memory storage capacity in a playful way.