Blank & colorful Multiplication chart 1-12 to print - RiverTimes - Free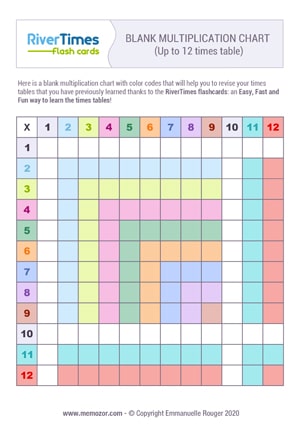 Get your Blank, Printable (pdf) and Colorful multiplication Chart with all the tables from 1 to 12. First print the chart and then you just have to complete it. Perfect for revising your times tables learned with our RiverTimes Method.


If you're having trouble learning the times tables, try our RiverTimes Multiplications Flash Cards, they make learning your times tables easy, fast, and fun! Discover also our wide range of Printable Multiplication Charts.


Click on the button below to download the RiverTimes Blank multiplication Chart (1-12) in Pdf format and then print it.