Blank Multiplication Charts (29)
Author:

Emmanuelle ROUGER
/
Published by

Memozor



Published on 02 August 2022 /
Last modified on 24 January 2023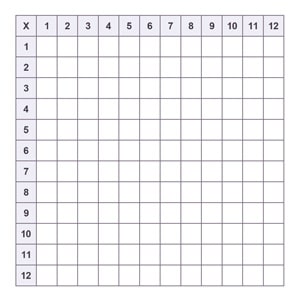 We offer you a Wide Range of Blank Multiplication Charts to help you learn your multiplication Tables. You will find below Blank charts, Classic or Fanciful, Colorful or Black & white... Choose your favorite! These Charts are in A4 standard format, available as printable Free PDF.
Several grid sizes are available: 10x10, 12x12, 15x15 or 20x20. In the US, the 12x12 size is used for teaching purposes.
Complete these blank Charts to learn your times tables. Feel to see all our Multiplication Charts.