Funny Matching games - Online and free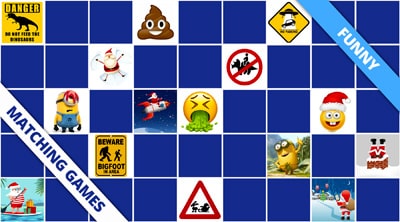 Several Funny matching games with many very funny emojis that you may not know, humorous Christmas pictures with Santa Claus in funny situations, road signs (that you will never meet on the side of the road) with UFOs, bigfoot, dinosaurs or zombies... games for laughs!
These games are responsive, indeed they are compatible with all devices: desktop, tablets and smartphones (Iphone or Android). The content and the games adjust automatically to your device, so you can play wherever you are.
Choose the game you prefer from the list below and have fun!


Author: Emmanuelle ROUGER / Published by Memozor


Choose a Matching Game