Memory game for adults - colors II - online and free
Play Memory game :
Please wait a few seconds...

Online memory game for adults - colors II: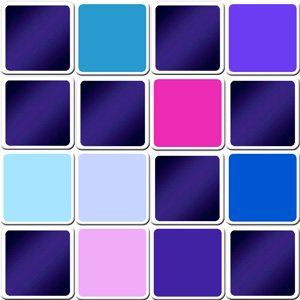 difficult colors memory game
A difficult memory game online for adults with many colors: the cards represent different colored cards ... a free game, so come and play!


There are 2 types of colors:
- Warm colors: red, yellow, pink and finally the color orange is the warmest color.
- Cool colors: green and purple and blue color which is the coldest on the color wheel.


How to play free memory game online:
In this free games online, the cards are arranged in columns and rows. You can change the number of cards on the board, and so the level of difficulty, thanks to the buttons located below the game.

You have to reconstruct the pairs of cards by turning them 2 by 2. If the cards turned face up are the same (a pair) you win and the pair disappears from the game otherwise the cards are automatically turned face down and you need to make a new try. Find all the pairs in the least moves and in a shortest time.
You will find the Quick memory game rules here, or you can also Download the Printable game rules in PDF format.

You can replay the same game as many times as you want: every time you start a new game, a random selection of the cards ensures a different game, so you can replay endlessly.


If you want games with more cards, you will find them in giant or big memory games


This game is compatible with all devices: desktop, tablets and smartphones. The content and the game adjust automatically to your device, so do not hesitate to play on a tablet or a smartphone.
Why play memory game for adults:
As memory declines with age, it is important for adults to train it daily, and playing memory games is a good exercise to limit memory loss over time. This game will reinforce and boost your memory in a playful way.