Memory game for toddlers - shaun the sheep - online and free
Play Memory game :
Memory game Shaun the sheep for toddlers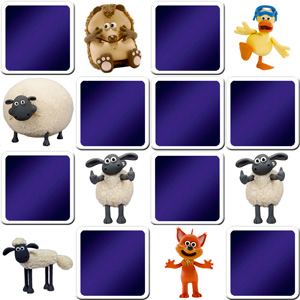 memory game Shaun the sheep for toddlers
A great Memory game for toddlers with Shaun the sheep and all his friends from "Timmy Time", a famous British stop-motion animated children's television series that young children love to watch! Babies will play with Timmy, Paxton, Finlay, Mittens, Apricot and many others. They will love this memory game!!!


Shaun the sheep - Timmy Time
Shaun the Sheep is a British stop-motion animated television series. This series tell us about the adventures of Shaun, a skinny and clever sheep, who lives with his flock in a traditional small northern English farm. Shaun is the leader of the flock. Another main character from this series is Bitzer the farm sheepdog, a yellow dog who is responsible for counting the sheep.
Timmy, Shaun's cousin and the only lamb in the flock, appears to be a toddler in this series, but he will become the main character in spinoff series "Timmy Time".


Timmy Time
Timmy Time is a stop motion animated series too created by the team behind Shaun the Sheep. It's a great series for both preschoolers with Timmy, a young male lamb (3 years old) who has a black head.
Timmy have many friends: Yabba (a male duckling), Paxton (a male piglet who wears a blue sweater), Mittens (a female kitten), Ruffy (a male puppy), Apricot (a female and baby hedgehog), Stripey (a male badger cub), Kid (a male blue goat with black head), Otus (a male owlet), Finlay (a male fox) and Bumpy (a male green caterpillar).
There is two teachers too: Harriet (a female pelican) and Osbourne (a male owl).


How to play free memory game online for toddlers:
If your baby is too young, he probably doesn't know how to handle the mouse, so we recommend that baby play on a tablet, it will be easier for him!
A game with very few cards, suitable for toodlers. The cards are arranged in 4 columns and 3 rows for a total of 12 cards (6 pairs), but you can change the number of cards on the board thanks to the buttons located below the game. Kids have to make pairs of cards by turning them 2 by 2. If the cards turned face up are the same (a pair) baby win, otherwise the cards are automatically turned face down and baby have to make a new try. The purpose of this game is to find all the pairs in the least moves and in a shortest time.

You will find the Quick memory game rules here, or you can also Download the Printable game rules in PDF format.

Every time a new game is starting, a random selection of the cards ensures a different game, so babies can replay endlessly!

This game is compatible with all devices: desktop, tablets and smartphones. The content and the game adjust automatically to your device, so do not hesitate to play on a tablet or a smartphone.
Why play memory game for toddlers:
A great game to train toodlers's memory in a playful way. Observe how babie memorize the locations of the different cards, he will surprise you!
Every time you start a new game, a random selection of the cards ensures a different game, so babies can replay endlessly!