Play Memory game :
Memory game for toddlers - The Barbapapa family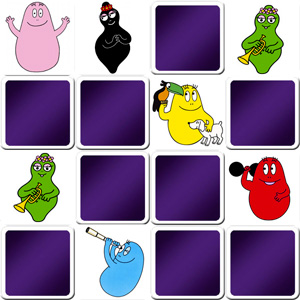 memory game Barbapapa family for toddlers
A great Memory game for toddlers with all the characters from the Barbapapa family: Barbapapa, Barbamama, Barbazoo, Barbabravo, Barbabelle and many others... toddlers will love this memory game!!!


The barbapapa family
....
How to play memory game for toddlers:
If your baby is too young, he probably doesn't know how to handle the mouse, so we recommend that baby play on a tablet, it will be easier for him!

A game with very few cards, suitable for toodlers. The cards are arranged in 4 columns and 3 rows for a total of 12 cards (6 pairs). Children have to make pairs with cards by turning them 2 by 2. If the cards turned face up are the same (a pair) baby win and the pair disappears from the game, otherwise the cards are automatically turned face down and baby have to make a new try. The purpose of this game is to find all the pairs in the least moves and in a shortest time.

Find the full memory game rules here.

Every time a new game is starting, a random selection of the cards ensures a different game, so babies can replay endlessly!
Why play memory game for toddlers:
A great game to train and test the memory of the toodlers in a playful way. Observe how babie memorize the locations of different cards, he will surprise you!
Every time you start a new game, a random selection of the cards ensures a different game, so children can replay endlessly!