Play Memory game :
Memory game dog breeds: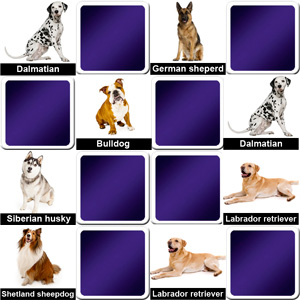 cats memory game
A great Memory game with many different dog breeds, the name of the dog breed is written on the card, so you can learn the breeds while having fun! You will see German sheperd, dalmatian, labrador retriever, rottweiler, bulldog, poodle, siberian husky and many others!


Dog breeds:
Some dog breeds are very popular as the German sheperd, the Golden retriever, the Belgian malinois, the Australian sheperd, the Labrador retriever, the Yorkshire Terrier, the Chihuahua, the Cocker spaniel, the Brittany spaniels.
Some dogs are very good at hunting as the Retrievers, the setters, the Spaniels, the Pointers, the Beagles, the Bloodhounds.
The best pet dogs, for kids and families, are: Labrador Retriever, Golden Retriever, Bull Dog, Beagle, Bull Terrier, Collie, Newfoundland, Irish Setter, Poodle.
How to play memory dog breeds:
In this memory game, the cards are arranged in columns and rows. You have to reconstruct the pairs of cards by turning them 2 by 2. If the cards turned face up are the same (a pair) you win and the pair disappears from the game otherwise the cards are automatically turned face down and you need to make a new try. Find all the pairs in the least moves and in a shortest time. You will find the full memory game rules here.
Every time you start a new game, a random selection of the cards ensures a different game, so you can replay endlessly.
Why play memory game dog breeds:
Great exercise to train memory. This game will reinforce and boost your visual memory storage capacity in a playful way.