Description of the free memory game:
Memory games online for kids 4 years old and over
Memory game for kids 4 years old and over - Spiderman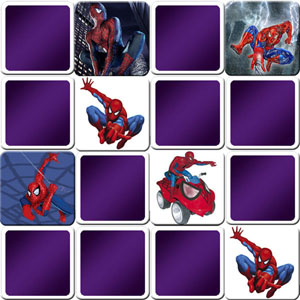 The Spiderman memory
for kids 4 years old
- Description:
Memory game for kids 4 years old and over. This is a free game. At each party, cards selected and their positioning in the game are random, you can replay endlessly with, each new part of memory, completely different games. The theme of this game is a Spiderman memory: the cards represent different characters from Spiderman...


- Purpose of the memory game:
Reconstruct the pairs of cards by turning them in pairs and in the least moves and time.


- Interest of the game:
Great exercise for training the memory of kids. This game will reinforce and boost their visual memory storage capacity in a playful way.

Spiderman a superhero
Spider-Man is a superhero wearing a suit typically red and blue. This character was created by Stan Lee and Steve Ditko. His first appearance is in the comic book in 1962 titled Book Amazing Fantasy. Similar to the spider, is able to move on any surface, whether that is its inclination to spiderman and also the ability to project a spider web very strong and sticky.


All Memory Games for kids 4 years old on this website are totally free and unlimited, so children can train their memory, or just play as many times as they like.